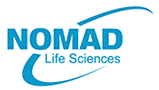 About NOMAD Life Sciences
Nomad Life Sciences Pvt Ltd is a Clinical Trial Management Organization with extended clinical research capabilities having a distinguished investigator network throughout India. We offer effective clinical trial management services with solutions to the Pharmaceutical and Biotechnology companies.

Our investigator site network management strategy is to improve the ethical recruitment of patients in terms of number and representation in the communities throughout India reducing the barriers between clinical and research systems while maintaining the barriers necessary for Indian and International GCP and IRB compliance.
Read more..
The ultimate goal of Nomad Life Sciences is to have its own identity in the Service industry as a most trusted service provider in all aspects and a one stop solution for high quality, time bound and cost effective services.

We are a team of experienced clinical research professionals who are highly process-driven in supporting national and global clinical trials. We constantly strive to recognize and adds expertise in the field of Clinical Research to fulfill the rising needs of the healthcare industry and to bring clinical studies to successful completion quickly and cost effectively.

Nomad Life Sciences is committed to creating knowledge and hope beyond borders while respecting human values and ethics. We have compassion for our clients, service providers, and patients.



Mission
Vission